Our organization represents floriculture greenhouse growers and industry partners across Canada.
What kind of visitor are you?
News & Highlights
Come see us at Cultivate'18 on July 15th to 17th at booth # 3620.Cultivate is the largest all-industry trade show and conference for the horticulture industry. It is the industry…
The Greenhouse Competitiveness and Innovation Initiative (GCII), is a non-competitive 19 million-dollar funding program established for Ontario greenhouse growers to increase…
Flowers Canada Growers is very pleased to announce that Palladium® Fungicide (fludioxonil, cyprodinil) has been approved for use on greenhouse (excluding cut flowers) and outdoor…
Flowers Canada Growers Inc. (FCG) is pleased to announce the launch of a new website to help flower buyers find Canadian ornamental plants and services ~…
Grower Spotlight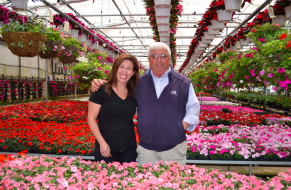 Niagara-on-the-Lake, Ontario
Seaway Farms & Greenhouses, established in 1970 by Vince Pillitteri, is a family business that grows every year. Located in the heart of the Niagara Region, we produce a huge variety of flowers and fresh fruit. We celebrate the best of every season with beautiful plants for Spring, Summer, Autumn and Winter and delicious fresh picked fruit including strawberries, peaches, nectarines and plums! As a family operated business, with a great team…
Find A Grower
Current Projects
In early 2012, FCO members supported a funding request for a Water Specialist to provide guidance to the floriculture sector on the issues related to water management. The Water Specialist role has three main components...

Flowers Canada (Ontario) Inc. (FCO) received funds from the Canadian Agriculture Adaptation Program (CAAP) of Agriculture and Agri-Food Canada (AAFC) to study access to propagative materials for the bulb sector.
Flower in-season
To view more in-season flowers, please visit pickOntario.