Our organization represents floriculture greenhouse growers and industry partners across Canada.
What kind of visitor are you?
News & Highlights
Join Flowers Canada (Ontario) on June 20th at Grower Day in St. Catharines at the Holiday Inn. Visit with Industry exhibitors and listen to speakers on hot topics within the…
Please join us on June 27th for Flowers Canada (Ontario) 46th Annual Golf Tournament. All proceeds are donated to the Cecil Delworth Foundation for floriculture research. …
Flowers Canada Growers is very pleased to announce that the biofungicide Diplomat 5SC (polyoxin-D) is registered and available for all greenhouse ornamental uses against Botrytis…
Flowers Canada Growers Inc. (FCG) is pleased to announce the launch of a new website to help flower buyers find Canadian ornamental plants and services ~…
Grower Spotlight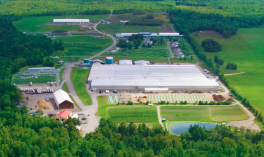 Northampton, New Brunswick
Located in the beautiful Saint John River Valley of New Brunswick, Jolly Farmer operates a 10.3 acre greenhouse, servicing customers in both the US and Canada. We sell our plants directly, not through the broker network. As of 2013, Jolly Farmer was considered in the Top 20 Young Plant Growers of North America, ranking #14 for volume produced.

Our vast selection of more than 3000 varieties of young plants ship nationwide in the US and…
Find A Grower
Current Projects
In early 2012, FCO members supported a funding request for a Water Specialist to provide guidance to the floriculture sector on the issues related to water management. The Water Specialist role has three main components...

Flowers Canada (Ontario) Inc. (FCO) received funds from the Canadian Agriculture Adaptation Program (CAAP) of Agriculture and Agri-Food Canada (AAFC) to study access to propagative materials for the bulb sector.
Flower in-season
To view more in-season flowers, please visit pickOntario.