Our organization represents floriculture greenhouse growers and industry partners across Canada.
What kind of visitor are you?
News & Highlights
Register Today for the Greenhouse IPM workshop on Achieving Sustainable Biocontrol. Friday, February 23rd, 2018 from 8:30 am to 1:30 p.m. Lunch is included.
Vineland Research and Innovation Centre is conducting a survey targeted to Canadian greenhouse growers measuring the success of advanced pest and disease management. For more…
Growers interested in importing PGR's and pesticides can again import Bonzi and A-Rest from the US for use in Canada.Visit the GROU page for more information on the import…
The Greenhouse Competitiveness and Innovation Initiative (GCII), is a non-competitive 19 million-dollar funding program established for Ontario greenhouse growers to increase…
Grower Spotlight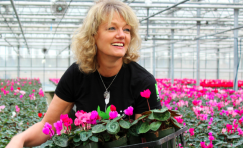 Surrey, British Columbia
Burnaby Lake Greenhouses is more than just a family farm, though those were the seeds that started us. Since 1955, we've bloomed from a small farm to the largest provider of quality live plants and cut flowers in Western Canada, but at our roots, we are still a family. We are a family that strives to bring you the newest, freshest selection of potted plants, cut flowers, and tropicals straight from our greenhouses.
Our goal is to…
Find A Grower
Current Projects
In early 2012, FCO members supported a funding request for a Water Specialist to provide guidance to the floriculture sector on the issues related to water management. The Water Specialist role has three main components...

Flowers Canada (Ontario) Inc. (FCO) received funds from the Canadian Agriculture Adaptation Program (CAAP) of Agriculture and Agri-Food Canada (AAFC) to study access to propagative materials for the bulb sector.
Flower in-season
To view more in-season flowers, please visit pickOntario.