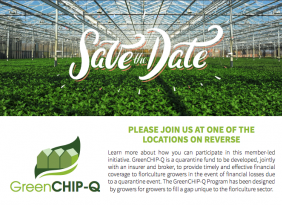 GreenCHIP-Q Meetings
Learn more about how you can participate in this member-led initiative. GreenCHIP-Q is a quarantine fund to be developed, jointly with an insurer and broker, to provide timely and effective financial coverage to floriculture growers in the event of financial losses due to a quarantine event. The GreenCHIP-Q Program has been designed by growers for growers to fill a gap unique to the floriculture sector.

PLEASE JOIN US AT ONE OF THESE LOCATIONS. Please RSVP to Rachelle at 519.836.5495 or email rachelle@fco.ca
---
JAN 11, 2017
Where: Beacon Harbourside Resort 2793 Beacon Blvd • Jordan Station, ON Time: Registration 11:00am / 12:00pm - 4:00pm Speaker: William Ravensbergen, P. Ravensbergen & Sons, GreenCHIP-Q Steering Committee Chairman
This presentation will be part of FCO's Annual General Meeting and Member's Savings Symposium. Lunch will be provided.
---
JAN 17, 2017
Where: Rosa Flora Ltd. (Boardroom) 756 Diltz Road • Dunnville, ON Lunch will be provided. Time: Registration 11:30am / 12:00pm - 2:00pm Speaker: Gina Marchionda, Jeffery's Greenhouses GreenCHIP-Q Steering Committee Member
---
JAN 18, 2017
Where: Ontario Flower Growers Co-op 910 Mid-way Blvd • Mississauga, ON Lunch will be provided. Time: Registration 11:30am/12:00pm - 2:00pm Speaker: Andy Kuyvenhoven, Kuyvenhoven Greenhouses GreenCHIP-Q Steering Committee Member
---
JAN 19, 2017
Where: Hilton Garden Inn 500 York Road • Niagara-on-the-Lake, ON Lunch will be provided. Time: Registration 11:30am / 12:00pm - 2:00pm Speaker: Robert Bierhuizen, Sunrise Greenhouses GreenCHIP-Q Steering Committee Member
All attendees will be registered in a draw for tow FREE passes to the Flowers Canada (Ontario) Inc. Golf Tournament and Banquet, being held June 28th, 2017 at the Peninsula Lakes golf Course - a $400.00 value! The winner will be announced on January 20, 2017
Categories
Event Calendar
The Latest from Greenhouse Canada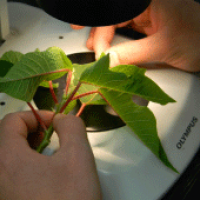 Vineland researchers are working with Flowers Canada and OMAF & MRA to get cutting dips on the labels.Hitchhiking whitefliesPoinsettia…