Home › News & Highlights › Flowers Canada (Ontario) Inc. Launches Traceability Marketing Initiative for Floriculture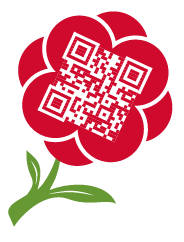 Flowers Canada (Ontario) Inc. Launches Traceability Marketing Initiative for Floriculture
FOR IMMEDIATE RELEASE November 29, 2013
Guelph, ON – Flowers Canada (Ontario) Inc. (FCO) is launching its "Members Only" portal, which is a secured informational website containing a unique Quick Response (QR) code for each FCO member.
The simple, unique and cost-effective QR code, when scanned, will take users directly to the grower's information page located on the FCO website. As a result of FCO's recent "B-Fast B-Secure Project" originally developed to create a traceability system for floriculture, QR codes were determined to be the simplest and most effective way to uniquely identify Ontario's floriculture greenhouses and are the foundation of the trace-back system capabilities.
The Members' Only section includes information on how to access and use the QR codes, exclusive information for Growers including an On-Farm Biosecurity Manual and a Traceability Strategy Document for Ontario floriculture as well as information on FCO's comprehensive suite of member benefits.
Dean Shoemaker, FCO's Executive Director commented: "With all the smartphone users in North America, we are taking the steps to utilize current technologies to promote our Growers and their products in the "new world" communication infrastructure. The scope of use for the QR codes is huge, particularly for traceability, product and brand advertising and in support of buy local initiatives like pickOntario."
There are many ways to utilize the QR codes in a productive marketing program. In order to understand their reach, FCO will have the ability to monitor the effectiveness of the QR code marketing initiative through a website analytics program, providing valuable information on the "who, what, where and when" of consumer floriculture purchase preferences to assist growers in understanding their markets.
"Growers have the option to use these easily adaptable QR codes on their care tags, stickers, packaging, sleeves, business cards, brochures, websites, labels or signage. By incorporating the unique QR codes into their marketing plans, growers can add greater accessibility to their audience, reminding technology savvy consumers that beautiful fresh flowers, potted plants and seasonal specialty products can be purchased right in their own back yard," cited Nikki Gomes, FCO's Marketing Director.
FCO is the provincial trade and professional association of the Ontario floral industry serving the floriculture sector and its Members, greenhouse floriculture producers, for over 45 years. FCO's mission is to enhance the profitability and competitiveness of Ontario's floriculture sector by helping growers address common issues. FCO strives to help growers find solutions in trade, plant bio-security, and research & innovation, human resources, environment, marketing and risk management.
Investment in this project has been provided by Agriculture and Agri-Food Canada through the Canadian Agricultural Adaptation Program (CAAP). In Ontario, this program is delivered by the Agricultural Adaptation Council.
For more information on FCO please visit www.flowerscanadagrowers.com. You can also contact the office directly by calling 1-800-698-0113 or emailing marketing@fco.ca.

- 30 -
Categories
Event Calendar
The Latest from Greenhouse Canada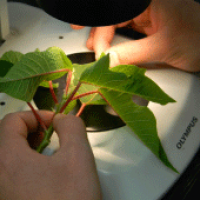 Vineland researchers are working with Flowers Canada and OMAF & MRA to get cutting dips on the labels.Hitchhiking whitefliesPoinsettia…