Our organization represents floriculture greenhouse growers and industry partners across Canada.
What kind of visitor are you?
News & Highlights
2016 CANADIAN GREENHOUSE CONFERENCE October 5 & 6, 2016 Scotiabank Convention Centre, Niagara Falls, Canada. Growers from across Canada and the US will be traveling to…
CFIA have engaged in a process to develop a voluntary standard that aims to create a framework for a consistent approach to controlling plant pests in the greenhouse, nursery and…
Disposing of unwanted pesticides or pesticide containers is an important aspect of responsible crop production. CleanFarms is a group that can assist by hosting obsolete…
Flowers Canada Growers is pleased to announce that Laura Bryce has accepted a position as a Regional Extension Coordinator for British Columbia. In this role Laura will be…
Grower Spotlight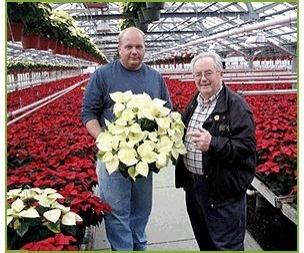 Leamington, Ontario
At CF Greenhouses in Leamington, Ontario, flowers power a loading dock that looks as if it were designed to house really big aircraft, or at the very least, the temperature controlled, immaculate trailers of the CF Greenhouses floral trucking business. "The space is used primarily to load flowers on our trucks and something we'll talk more about after we tour the greenhouses," says CF Greenhouses General Manager, Rick Rabb. "The hanging…
Find A Grower
Current Projects
In early 2012, FCO members supported a funding request for a Water Specialist to provide guidance to the floriculture sector on the issues related to water management. The Water Specialist role has three main components...

Flowers Canada (Ontario) Inc. (FCO) received funds from the Canadian Agriculture Adaptation Program (CAAP) of Agriculture and Agri-Food Canada (AAFC) to study access to propagative materials for the bulb sector.
Flower in-season
To view more in-season flowers, please visit pickOntario.