Our organization represents floriculture greenhouse growers and industry partners across Canada.
What kind of visitor are you?
News & Highlights
Environmental Farm Plan (EFP)June 17th & 21st, 2016, 10:00am- 3pm**All growers who have not completed an EFP in the last 5 years and wish to access cost shares funds should…
CFIA have engaged in a process to develop a voluntary standard that aims to create a framework for a consistent approach to controlling plant pests in the greenhouse, nursery and…
Falls are hurting Ontario workers. In 2013, a staggering 11,814 lost time injury (LTI) claims resulted from falls – that's 32 LTI claims per day. Falls on the same level occur…
Flowers Canada Growers Inc. (FCG) has received funding from Agriculture and Agri-Food Canada (AAFC) through the AgriMarketing Program (AMP) for a project entitled: "The Canadian…
Grower Spotlight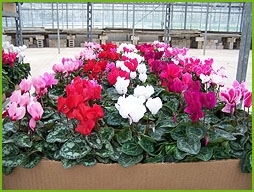 St Catharines, Ontario
A family business...rooted in quality.
This phrase sums up perfectly what Colonial is all about.  We are a second generation greenhouse operation with over 45 years experience in the propagation business.  Our main focus right now is on vegetative annuals including geraniums, New Guinea Impatiens,
Find A Grower
Current Projects
In early 2012, FCO members supported a funding request for a Water Specialist to provide guidance to the floriculture sector on the issues related to water management. The Water Specialist role has three main components...

Flowers Canada (Ontario) Inc. (FCO) received funds from the Canadian Agriculture Adaptation Program (CAAP) of Agriculture and Agri-Food Canada (AAFC) to study access to propagative materials for the bulb sector.
Flower in-season
To view more in-season flowers, please visit pickOntario.