Our organization represents floriculture greenhouse growers and industry partners across Canada.
What kind of visitor are you?
News & Highlights
Tuesday June 9th, 2015 at the Vineland Research StationLearn about pesticide safety practices specific to greenhouse applications.1. IPM in the Greenhouse2. Worker Safety…
Dr. Sara Mann from the University of Guelph and Dr. Marie-Helene Budworth from York University, in collaboration with Ken Linington, are conducting a study examining the effectiveness of Supervisory Training in the Agri-Food industry.
Successful biocontrol programs are dependent on a number of factors, but good qualitynatural enemies are fundamental. However, as living organisms, biocontrol products aresubject…
May 4, 2015The Board of Directors of Flowers Canada (Ontario) Inc. (FCO) is very pleased to announce the appointment of Andrew Morse as Executive Director effective June 28,…
Grower Spotlight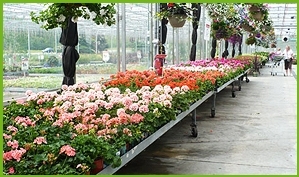 Bradford West Gwillimbury, Ontario
Bradford Greenhouses is a true Canadian success story. In August of 1956 Francis Ferragine immigrated to Canada from England with his wife Chiara, his son's Tony & Peter and his daughter Mary. For the next 4 years Francis and his family spent their time working as labourers in the Holland Marsh for local farmers. In 1961 Francis purchased property in Bradford and began growing a company. In 1975 Bradford Greenhouses opened a…
Find A Grower
Current Projects
In early 2012, FCO members supported a funding request for a Water Specialist to provide guidance to the floriculture sector on the issues related to water management. The Water Specialist role has two main components...

Flowers Canada (Ontario) Inc. (FCO) received funds from the Canadian Agriculture Adaptation Program (CAAP) of Agriculture and Agri-Food Canada (AAFC) to study access to propagative materials for the bulb sector.
Flower in-season
To view more in-season flowers, please visit pickOntario.