Our organization represents floriculture greenhouse growers and industry partners across Canada.
What kind of visitor are you?
News & Highlights
Best Management Practices, or BMPs, have historically been most closely aligned with pollution control with respect to water. However, the focus of this conference will expand the…
Vineland Research and Innovation Centre has just published their 2016 - 2017 Vineland Innovation Report which is available here to view. For more information on this publication…
Flowers Canada Growers is pleased to announce that Presidio Fungicide is now registered for use on greenhouse and outdoor grown ornamentals. FCG would like to thank Valent…
Greenhouse IPM 101: Basic IPM Tools and TechniquesFriday, February 17th, 2017 8:30 a.m. - 1:30 p.m.Being held at the Rittenhouse Hall, Province of Ontario building, Vineland…
Grower Spotlight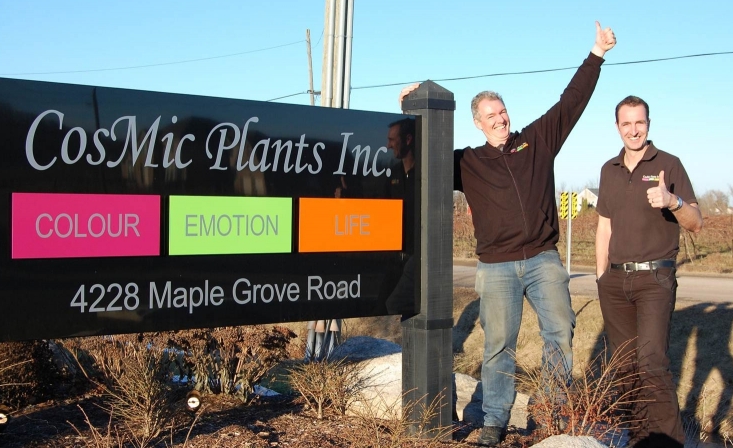 Lincoln, Ontario
Cosmic is a word used to express amazement or wonder.  It is also an appropriate name for a company that specializes in growing a plant that elicits the same emotions. CosMic Plants' Phalaenopsis Orchids are simply out of this world.
According to co-owner Neil van Steekelenburg, CosMic is also a shortened version of  his and his partner/brother's names - Cornelis and Michael.  "It seemed to be a good fit on many levels…
Find A Grower
Current Projects
In early 2012, FCO members supported a funding request for a Water Specialist to provide guidance to the floriculture sector on the issues related to water management. The Water Specialist role has three main components...

Flowers Canada (Ontario) Inc. (FCO) received funds from the Canadian Agriculture Adaptation Program (CAAP) of Agriculture and Agri-Food Canada (AAFC) to study access to propagative materials for the bulb sector.
Flower in-season
To view more in-season flowers, please visit pickOntario.