Our organization represents floriculture greenhouse growers and industry partners across Canada.
What kind of visitor are you?
News & Highlights
2016 CANADIAN GREENHOUSE CONFERENCE October 5 & 6, 2016 Scotiabank Convention Centre, Niagara Falls, Canada. Growers from across Canada and the US will be traveling to…
CFIA have engaged in a process to develop a voluntary standard that aims to create a framework for a consistent approach to controlling plant pests in the greenhouse, nursery and…
Flowers Canada is very pleased to announce that the label expansion of Beleaf Insecticide submitted through the FCG office has been approved for drench application uses. Pests…
Flowers Canada Growers is pleased to announce that Laura Bryce has accepted a position as a Regional Extension Coordinator for British Columbia. In this role Laura will be…
Grower Spotlight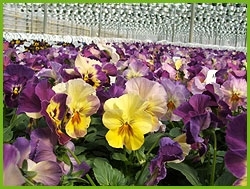 Delhi, Ontario
Fernlea is an owner-operated North American grower and supplier of high quality garden and potted plants. Our Mission is to meet customer demand for large volumes of quality plants at a competitive price by becoming the most cost-effective producer, distributor and marketer in the industry.
 Born in 1939 as a family run operation, Fernlea has grown to become one of the largest suppliers of garden plants in North America.…
Find A Grower
Current Projects
In early 2012, FCO members supported a funding request for a Water Specialist to provide guidance to the floriculture sector on the issues related to water management. The Water Specialist role has three main components...

Flowers Canada (Ontario) Inc. (FCO) received funds from the Canadian Agriculture Adaptation Program (CAAP) of Agriculture and Agri-Food Canada (AAFC) to study access to propagative materials for the bulb sector.
Flower in-season
To view more in-season flowers, please visit pickOntario.