Ference Insecticide Approved
Flowers Canada Growers is pleased to announce that Ference Insecticide (cyantraniliprole) is registered for use on turf, outdoor and indoor ornamental crops. Ference is approved for use as a foliar spray and a drench use and can control aphids, soft scale and whiteflies and suppress thrips. Many growers will be familiar with the widely used US product Mainspring, that contains the same active ingredient (cyantraniliprole) as Ference.
Many thanks to Syngenta Canada for making this new innovative product available and to Health Canada's Pest Management Regulatory Agency for approving these new uses.
For more information on this or other pest management related inquiries please feel free to contact Cary Gates at Flowers Canada (
Cary@fco.ca
, 519-836-5495 X228) anytime.
Categories
Event Calendar
The Latest from Greenhouse Canada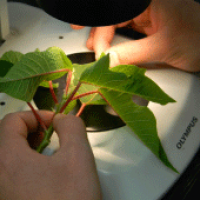 Vineland researchers are working with Flowers Canada and OMAF & MRA to get cutting dips on the labels.Hitchhiking whitefliesPoinsettia…