Stabilizing Access to Propagation Material for the Bulb Flower Sector
Flowers Canada (Ontario) Inc. (FCO) received funds from the Canadian Agriculture Adaptation Program (CAAP) of Agriculture and Agri-Food Canada (AAFC) to study access to propagative materials for the bulb sector. The project broadly aims to analyze the bulb sector by identifying strategies to improve sector performance, access propagative material from overseas, and offset the risk posed by imported bulbs.
FCO has closely followed the frequency and severity of bulb detention and rejection by CFIA for several years. Through this project, FCO has gathered trade data, conducted a survey of bulb growers and conducted an economic impact analysis of the bulb sector, identifying how the sector would be affected by changes to regulations relating to soil non-compliance for bulb production.
A working group (collaboration between FCO, OMAFRA and CFIA) examined several problems surrounding bulb importation including transparency in the inspection process, inspection rates, the risks of soil contamination and potential mitigation techniques. Communicating to Ontario's bulb growing community, the working group held a town hall meeting in April, presenting the progress on this file. Since then, FCO and CFIA have been working on potential risk mitigation techniques to reduce the impacts of bulb rejection in a safe phytosanitary environment.
For More information on this project please contact Andrew Morse at Andrew@fco.on.ca
Categories
Event Calendar
The Latest from Greenhouse Canada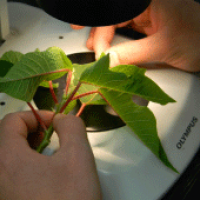 Vineland researchers are working with Flowers Canada and OMAF & MRA to get cutting dips on the labels.Hitchhiking whitefliesPoinsettia…