On Farm Efficacy Trials of Biocontrol Release Methods for the Control of Western Flower Thrips and Whitefly
In previous on-farm biocontrol trials conducted at Flowers Canada members' farms it was determined that almost every one of the approximately 60 trials sites used a biocontrol program that differed from the other sites. However for two pests in particular, western flower thrips and whiteflies, some common strategies did surface that were effective at some sites and ineffective at others.
This project will investigate these common strategies in two major greenhouse flower crops – potted chrysanthemums and potted gerbera. The strategies being compared will consist of weekly broadcast of biocontrol agents versus monthly hanging of biocontrol sachets. Interspersed in these trials will be a comparison of using trapping cards and tape versus not using them.
The goal is to provide Ontario flower growers with one repeatable, consistent and effective biocontrol strategy for each of these crops.
Categories
Event Calendar
The Latest from Greenhouse Canada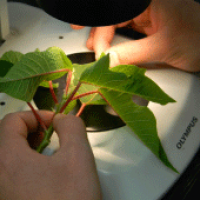 Vineland researchers are working with Flowers Canada and OMAF & MRA to get cutting dips on the labels.Hitchhiking whitefliesPoinsettia…