Rhapsody Label Expanded
Flowers Canada is pleased to announce that Rhapsody is now registered for the suppression of powdery mildew diseases (Oidium spp., Erysiphe spp.,Sphaerotheca spp.) on ornamentals grown indoors, outdoors, in greenhouses and nurseries. Many thanks to Bayer Environmental Science for supporting greenhouse ornamentals and to the PMRA for their assistance in registering this product. Click here to review the full label.
For more information on this or other minor use registrations please contact Flowers Canada's Pest Management Director Cary Gates (Cary@fco.ca 519 836 5495 X228).
Categories
Event Calendar
The Latest from Greenhouse Canada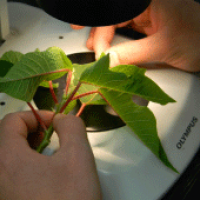 Vineland researchers are working with Flowers Canada and OMAF & MRA to get cutting dips on the labels.Hitchhiking whitefliesPoinsettia…