Home › News & Highlights › Flowers Canada Welcomes Rachelle Pruss to the New Position of Member Relations Coordinator
Flowers Canada Welcomes Rachelle Pruss in the Newly Created Position of Member Relations Coordinator
FOR IMMEDIATE RELEASE April 21, 2015
Guelph, ON – Flowers Canada (Ontario) Inc (FCO) is pleased to announce the establishment of its newly created position of Member Relations Coordinator. This position is being implemented in support of FCO's commitment to its number one priority - member support and exceptional customer service. Effective immediately, Rachelle Pruss will be taking on the role of Member Relations Coordinator.
Ms. Pruss originally joined the FCO team as Marketing Coordinator in August 2013. Rachelle has already been involved in many of FCO's Member focused initiatives including being on the organizing committees for the highly successful Member Savings Symposiums, FCO's Golf Tournament, greeting growers at the Canadian Greenhouse Conference, developing grower profiles for the website and leading the charge on a number of marketing initiatives including Express It With Flowers and Grown Close to Home. Rachelle will continue to be the pen behind FCO's newsletters and grower communications.
"When you're passionate about what you do and where you work, taking on the role of the front-line ambassador comes easy," shares Rachelle Pruss. "I could not be more excited about getting to know the growers better and developing a solid understanding of how FCO can be of service to them."
Although Rachelle will be working closely with the entire FCO team, she will be the first point of contact for growers. If Rachelle cannot respond to growers questions or issues, she will find the FCO resource who can - whether that be issues relating to Pest Management, Plant Health, International Trade, Human Resource or pickOntario, Rachelle will be able to direct members to the appropriate team member.
"We are excited about having Rachelle as the face of Flowers Canada," commented Dean Shoemaker, FCO's Executive Director. "The FCO staff are dedicated to serving the Membership and this newly created position helps to solidify our mandate of providing exceptional customer service."
Flowers Canada (Ontario) Inc. is the provincial trade and professional association of the Ontario floral industry serving the floriculture sector and its Members, greenhouse floriculture producers, for almost 50 years. FCO's mission is to enhance the profitability and competitiveness of Ontario's floriculture sector by helping growers address common issues. FCO strives to help growers find solutions in pest management, trade, plant health, research and innovation, human resources, environment, marketing and risk management.
For more information on FCO please visit www.flowerscanadagrowers.com. You can also contact the office directly by calling 1-800-698-0113 or emailing flowers@fco.ca.
- 30 -
Categories
Event Calendar
The Latest from Greenhouse Canada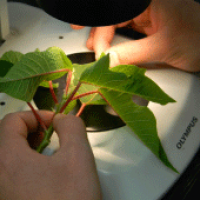 Vineland researchers are working with Flowers Canada and OMAF & MRA to get cutting dips on the labels.Hitchhiking whitefliesPoinsettia…