Bio-Ceres registered for Greenhouse ornamentals
Flowers Canada Growers Inc. is pleased to announce that Bio-Ceres WP and Bio-Ceres G WB have been approved for registration by Health Canada.
Health Canada's Pest Management Regulatory Agency (PMRA) is proposing full registration for the sale and use of Beauveria bassiana strain ANT-03 and the end-use products Bio-Ceres G WP and Bio-Ceres G WB, containing the technical grade active ingredient Beauveria bassiana strain ANT-03, to reduce numbers of whiteflies, thrips and aphids on greenhouse grown tomatoes, cucumbers and ornamentals.
This is a new strain of B. bassiana than have been available in to date. Many thanks to the PMRA and Anatis Bioprotection for bringing this product to Canada.
Categories
Event Calendar
The Latest from Greenhouse Canada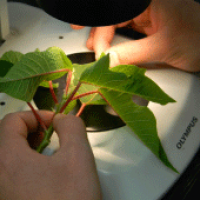 Vineland researchers are working with Flowers Canada and OMAF & MRA to get cutting dips on the labels.Hitchhiking whitefliesPoinsettia…