Empty Pesticide container and Obsolete Pesticide Disposal
Disposing of unwanted pesticides or pesticide containers is an important aspect of responsible crop production.
CleanFarms is a group that can assist by hosting obsolete pesticide disposal events and providing information on locations for disposing used pesticide containers.
CleanFARMS will be running a free obsolete pesticide and livestock/equine medication collection program at 40 ag-retail locations throughout the province of Ontario from September 20th to 30th, 2016

For a full list of the specific ag-retail locations that will be participating as collection points please CLICK HERE.
Categories
Event Calendar
The Latest from Greenhouse Canada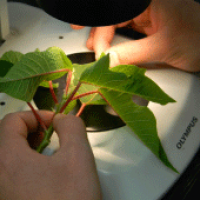 Vineland researchers are working with Flowers Canada and OMAF & MRA to get cutting dips on the labels.Hitchhiking whitefliesPoinsettia…