Home › Flower Growers › FCG Current Projects › Evaluation of Innovative Water Treatment Technologies for the Removal of Plant Pathogens From Recycled Irrigation Water in the Horticulture Industry
Evaluation of Innovative Water Treatment Technologies for the Removal of Plant Pathogens From Recycled Irrigation Water in the Horticulture Industry
Runoff and drainage of irrigation water containing fertilizers is a source of contamination of surface and groundwater. Recycling is used to minimize these harmful environmental effects. The spread of waterborne pathogens poses a significant threat to crops irrigated with recycled water. Two root-infecting pathogens in greenhouse production, Pythium and Phytophthora spp. are well adapted to the aquatic environment and are able to survive in recycled irrigation water leading to crop losses. In this study, a filtering irrigation system (SRI Envirogrow system) will be evaluated for pathogen removal and compared to other commonly used sterilization systems. The SRI system consists of microporous, reinforced irrigation tubing on a synthetic, recyclable rockwool substitute. The tubing is permeable to nutrient solutions and should prevent movement of water-borne plant pathogens. This technology has the potential to provide growers with a cost effective strategy for reducing pathogens in recycled water and limit crop losses.
Categories
Event Calendar
The Latest from Greenhouse Canada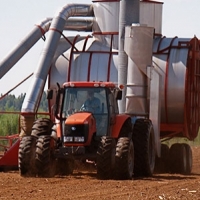 To meet the demand of clients and to ensure production techniques meet the most rigorous standards, peat moss producers have developed a number of initiatives that can also help the horticulture industry.