A Blueprint for Environmentally Sustainable Greenhouse Farming
In early 2012, FCO members supported a funding request for a Water Specialist to provide guidance to the floriculture sector on the issues related to water management. The Water Specialist role has three main components: assisting growers with the development of Greenhouse Water Abatement Plans, supporting FCO members to develop appropriate and sustainable management solutions for greenhouse waste water, and applied research that supports growers.
While the MOECC is continuing to inspect greenhouse operations to ensure compliance with water management, they are also willing to discuss alternatives to the current regulatory framework. Current legislation dictates that if stormwater, wastewater, or sanitary wastewater is collected, transmitted, treated and disposed of then it requires approval from the MOECC. Alternative regulatory options include creating an agricultural guideline for stormwater management, and allowing nutrient feed water to be applied to land as an 'agricultural source material' under the Nutrient Management Act.
For more information on water and nutrient management please contact Jeanine West at Jeanine@fco.ca
Categories
Event Calendar
The Latest from Greenhouse Canada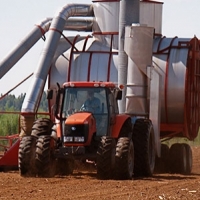 To meet the demand of clients and to ensure production techniques meet the most rigorous standards, peat moss producers have developed a number of initiatives that can also help the horticulture industry.