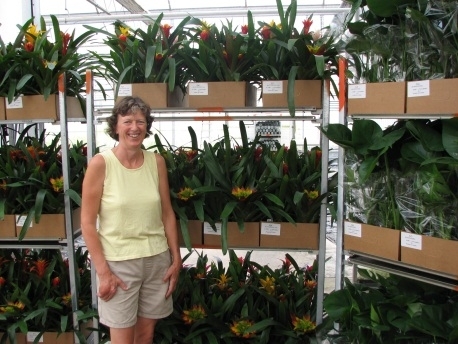 Colourful Gardens Ltd.
Clen and Angelle van Kleef have been growing Hibiscus since 1988. They met at university where they were studying horticulture and food technology. After working for government and private companies they decided to start their own greenhouse business. In that period their 2 children, Mats and Estelle, were born. What started out as a trial year, has now resulted in 23 years of working together.
Colourful Gardens started out as a 2 acre greenhouse in Poeldijk, the Netherlands. After 5 years, they moved to a 3 acre greenhouse in Honselersdijk. In 1999, the van Kleefs moved to Simcoe, Ontario to start a new on a 1 acre greenhouse, growing hibiscus, ficus and monsterra. As of 2003, the van Kleefs also produce bromeliads.
Colourful Gardens started building at their current location in Simcoe in 1999. The first hoop greenhouse was followed by 25000 sq.ft. gutter connect in 2000. The last add-on was completed in 2003. At Colourful Gardens Ltd., they now grow in 44000 sq.ft. of double poly greenhouses.
Inside the greenhouse, a lot of effort is put into preserving energy, labour and resources. To preserve on gas, their highest expense, an energy curtain was installed in the second year. They have installed warm water floor heat in all houses, fed by high efficiency condensing boilers. The van Kleef's yearly replace an extra layer of poly on the inside walls, as well as anti-drip poly from truss-to-truss. Together with considerate climate control they have saved 50% on their gas expenses. To preserve on labour they work with monorail carts and Danish carts for internal transportation. To preserve on resources they have put thick poly on the floor covered with capillary mats and black perforated poly. Now they have less than 10% of fertilizer and water lost to the ground. Even their waste is managed carefully. To top off environmental consciousness they use biological pest control year-round.
The main crop grown at Colourful Gardens Ltd. is hibiscus, which they have been growing since 1988. Hibiscus is often a patio plant, but does great in a south window all year round. Hibiscus is available March to July. All stages of the crop cycle are grown at their production facility. Mother stock is grown for the production of cuttings, the cuttings are rooted in the rooting zone, and then those cuttings are planted in 6" pots, pinched and spaced. Hibiscus attract a lot of pests, so in 2004, Intregrated Pest Management (IPM) was introduced. This system uses biologic predators to rid the greenhouse of pests which has allowed Colourful Gardens to use a lot less chemicals on their crops. Although this is an ongoing learning process with new surprises every year it has shown to be effective, more sustainable and less hazardous.
The next crop grown at Colourful Gardens is tropical foliage, which includes monsterra and ficus. Monstera has been grown since 1991. Monsterra is started as a seed and then planted in a 6" pot. The quality of Monstera is controlled by controlling temperature and fertilizer. In 2003, ficus was added as a tropical foliage crop. Three varieties of Ficus are grown; the slow growing variety Ficus variegated, Ficus lime and Ficus dark green. Ficus mother stock is grown at Colourful Gardens Ltd and the cuttings are produced in the spring. After shipping hibiscus in the spring, monsterra and ficus are planted. Shipping goes on from August until February.
The other crop grown at Colourful Gardens is bromeliad which was introduced in 2003. At Colourful Gardens Ltd. the main species of bromelia grown are Guzmania, Aechmea and Vriesea. Since the introduction of this crop about 10 colours of Guzmania have been grown, one variety of Aechmea, and 4 varieties of Vriesea. The young plants of Bromelia are ordered 2 years before they are shipped. The breeder needs 6 months to one year to grow the young plants. Then the plants are planted in 4" pots and grow for 4 months. Later these plants are transplanted into 6" pots and grown for 4 more months before they are treated for flower induction. It then only takes 3 more months before the plants are ready for shipping. Bromelias usually sell after holidays such as Christmas, Valentines and Easter. Also Bromelias are used for interior landscaping of offices, casinos and shopping malls
Our Contact Information
Phone: (519) 428-1421
Fax: (519) 428-2209
Our Location
Colourful Gardens Ltd. is located at 14 Windham Road 14, Simcoe, ON N3Y 4K6, Canada.
Upcoming Event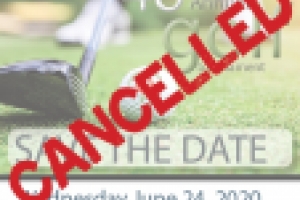 Due to the COVID-19 pandemic Flowers Canada (Ontario) Inc. has decided to CANCEL our 48th Annual Golf Tournament which was being held on…
View All »
Latest Grower News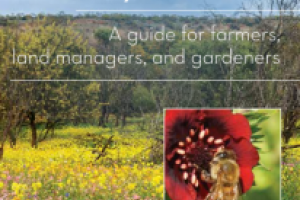 FCG was invited to join AAFC's Bee Health Roundtable in 2015 and shortly thereafter were tasked to chair a working group to build a…
View All »