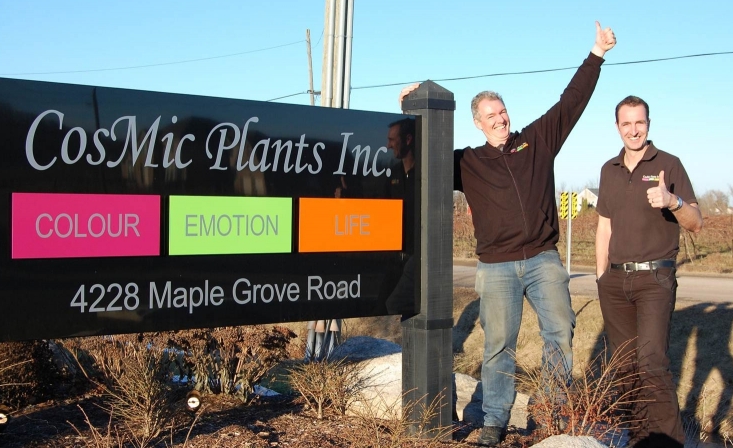 Cosmic Plants Inc.
Cosmic is a word used to express amazement or wonder.  It is also an appropriate name for a company that specializes in growing a plant that elicits the same emotions. CosMic Plants' Phalaenopsis Orchids are simply out of this world.
According to co-owner Neil van Steekelenburg, CosMic is also a shortened version of  his and his partner/brother's names - Cornelis and Michael.  "It seemed to be a good fit on many levels and easy to remember," laughs Neil, holding a tray of just planted rooted orchid cuttings. 
CosMic Plants buys baby orchids from Sion, Anthura and Floricultura in The Netherlands, three orchid breeding stock specialists. The plants spend the first 6 months of their lives in-vitro flasks, before relocating to a spacious greenhouse in Beamsville, Ontario.  Approximately, 18 months later the potted orchids are ready for market. CosMic Plants  is also the official dealer for Sion orchid stock in North America.
"In our 60,000 square foot modern greenhouse, we have mechanized as much as possible for it's size." says Mike van Steekelenburg, standing beside brother Neil in front of the potting machine. CosMic Plants has been growing and selling orchids in Ontario since 2005, but both brothers were involved in the  greenhouse industry before immigrating from Holland.  "I handle sales and marketing and Neil manages production and our team of employees," adds Mike.  CosMic Plants currently produces 4.5 thousand finished orchids per week, 52 weeks of the year.
Once the orchids are removed from their communal trays at 26 weeks, and individually planted in transparent growing pots, they move through the various growing environments on mechanized movable benches. 
The plants spend 6 to 7 months in a 28 degree tropical environment before moving to a much cooler and brighter space for 10 weeks to promote spike and bud development.
The labour intensive part of growing this crop is staking the spikes - a tricky and time consuming process.
The staked plants then spend a few more months in ideal blooming  conditions.
The plants are also graded continuously.  Anything less than 7 blooms per spike is B grade.
"Some of our customers purchase our orchids at the "puffy bud" stage but they often have supplemental lighting situations to ensure that the buds open, says Neil.  "We try to sell most of our plants with at least 2 open flowers per spike.  At that stage of the plant's life the rest of the blossoms will open in a wide variety of home lighting situations."
All of CosMic Plants' orchids are grown in 5" pots.  The plants are sold with either 1 or 2 flower spikes and are available in many different colour-shades. Custom designed container upgrades are also available.  CosMic Plants sells most of its plants through flower and plant wholesalers who in turn sell to florists, garden centers and chain stores.
Cosmic Plants used to be open to the public on Saturday but it has shifted it's retail representation to The Watering Can, a retail flower- and garden store around the corner.
"We are 5 minutes from the QEW on the Niagara Peninsula near Beamsville," says Neil.  "Any place that sells orchids is a pleasant diversion during an Ontario winter."
The van Steekelenburg brothers think of the Phalaenopsis Orchid as an exclusive houseplant rather than an expensive one.  "Cost wise it is comparable to a nice cut flower arrangement but the orchid is much better value for the money because the blooms last for three to five months," explains Mike.
"And with a little effort, the plant will bloom again and again, making it a gift that keeps on giving," adds Neil van Steekelenburg. 
Once a spike has finished flowering, cut back to just above the first or second bract or bulge in the stem, starting from the base and moving up the spike.  Then move the plant to a cooler but bright location for 2 months to encourage new spike development.  Repot only if the roots completely fill the pot or the potting compost has completely decayed (disappeared). Use only special orchid potting compost, available at most garden centers.
Orchids tend to have lots of aerial roots growing outside the pot and they should be left as is.
"If you wish to put the plant in a decorative pot, don't remove from its grow pot as this container assists with the recommended method of watering," says Mike."
"We find that the best method of watering at home is to submerge the grow pot in a bucket of water for a few minutes, then drain the excess.  Make sure the plant does not sit in water. As in their natural environment, the roots need air as well! You won't need to water again for 7-10 days." 
According to Mike, orchids don't need much food and it is easier to harm the plant with too much fertilizer than with no fertilizer at all. So it is safe to water with just tap-water.
Orchids also like humidity so it's leaves welcome a mist once in a while, especially during the dry winter months.
"The final step in the life of an orchid at CosMic Plants is dressing the plant for the journey to its next home.  "The ideal temperature for an orchid is 18 - 22 degrees centigrade so proper packaging is essential to the plant's longevity outside of the greenhouse," concludes Mike.
Our Contact Information
Phone: (905) 562-9389
Fax: (905) 562-9390
Website: http://www.cosmicplants.com
Our Location
Cosmic Plants Inc. is located at Beamsville, Lincoln, ON L0R, Canada.
Upcoming Event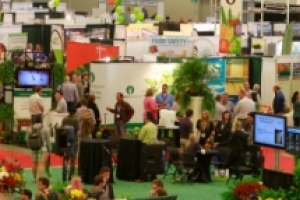 Located at the Scotiabank Convention Centre in exciting Niagara Falls, Canada, the CGC offers two days of informative, motivating sessions…
View All »
Latest Grower News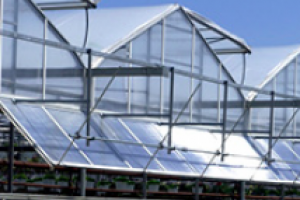 Westbrook Group of Companies are undergoing significant changes to its operations, labour force and locations in response to major shifts…
View All »